Laser Resurfacing- Deep Lines & Wrinkles, Loose Saggy Skin & Droopy Eyelids
Subtract 10 years with Smartxide frCO2 Laser Resurfacing Treatment at The Lazer Room
Are you bothered by Deep Lines and Wrinkles? Over time, fine lines that are a natural part of the aging process can become etched into the skin. These may have started as dynamic lines – the result of repetitive expressions such as frowning, smiling or laughing- which, if treated earlier on, might have disappeared completely with Botox. Now, when you stretch the skin, those lines remain, and can only be eliminated with laser resurfacing.
Smartxide frCO2 Laser for Deep Lines and Madonna Eyelift
What is Laser Resurfacing?
Laser Resurfacing is the name given to a procedure that dramatically improves skin texture – wrinkles, deep lines, scars, stretch-marks, rough spots, coarse pores etc. It is an in-office medical procedure, done under local anaesthetic. The laser vaporizes skin cells in the dermis, which stimulates the remodelling of wrinkled or scarred skin. There are many types of resurfacing lasers, but the main differences to note are:
Ablative vs Non- Ablative Lasers
Non-Ablative Lasers leave the top layer of the skin, the epidermis, intact, while treating the middle layer of the skin – the dermis. This leads to more rapid healing, and less downtime. However, as a general rule, these lasers will not be as effective as ablative lasers for treating deep lines; and will require several treatments to effect significant changes in skin texture.
Example of Non-Ablative Resurfacing Lasers used in The Lazer Room :
Fraxel Dual 1550/1927nm (Erbium /Thulium lasers) – used for skin rejuvenation, treatment of pigment problems, stretch marks, acne, surgical and traumatic scars. Depending on the wavelength used and the depth/intensity of treatment, there can be downtime. Superficial flaking will occur 3-4 days after a 1927nm (Thulium) treatment for brown spots; redness can last for a couple of days following a deep 1550nm (Erbium) treatment for acne scarring etc. Depending on the indication and severity of the problem, 1-4 treatments may be required.
Ablative Lasers vaporize the top layer of the skin (epidermis) as well as treating deep into the middle layer of the skin. This is a more intense treatment for persons with major texture, scarring or pigment problems, and recovery time will range from 4-10 days. Example of an ablative resurfacing laser would be the Smartxide (CO2) laser.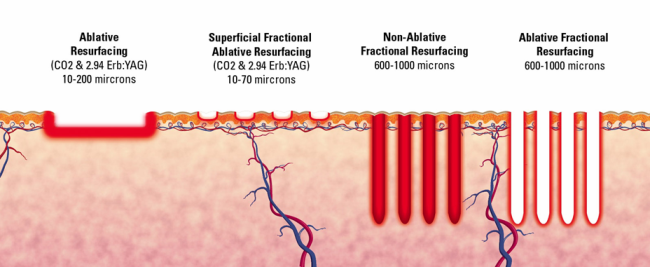 Fractional Vs Full Resurfacing Lasers
Full ablative CO2 Laser Resurfacing (removal of 100% of surface skin to varying depths in the dermis, leaving a raw, open surface) was the treatment of choice 25-30 years ago for persons with severe wrinkling or scarring; this was a major procedure done under general anaesthetic, and although the results were good, it was associated with high risk of infection, slow healing and permanent loss of pigmentation of the treated area.
Nowadays, most cosmetic physicians perform fractional CO2 resurfacing. This means that no more than 50% of the treated skin is vaporized at one session, in tiny microscopic channels, which will only take 48 hrs to heal. Excellent results can still be obtained for deep scarring, smokers' lines, stretch-marks, but 2-3 sessions are required for optimal results. Unlike Erbium lasers, which are also used for ablative resurfacing, the CO2 laser leads to significant tightening of loose or baggy skin.
With fractional laser resurfacing, thousands of microscopic treatment zones are created in the skin. Normal skin left in between the treatment zones allows for rapid healing and fast recovery time.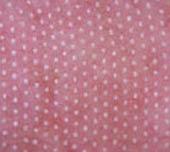 Section of treated skin, showing microscopic channels
Fractional Resurfacing using the Smartxide CO2 Laser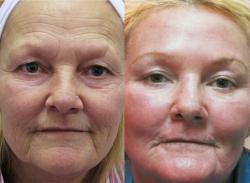 The Smartxide DOT Fractional CO2 Resurfacing Laser is used for treating:
Smoker's lines (vertical lines above and below the lips)
Deep Lines and wrinkles (face, neck chest)
Loose, sagging skin – e.g. bags under the eyes, loose skin of the neck
Droopy eyelids – the non-surgical Madonna Eyelift
Stretch-marks – post pregnancy or weight loss
Severe acne scarring
Other scars – traumatic, surgical etc.
Poor skin texture – fine lines, pores, pigmentation
Smokers' Lines before and after Fractional CO2 resurfacing

Lazer Room Patient – The Madonna Eye-Lift * Individual Results May Vary
This non-surgical treatment for droopy eyelids was developed by renowned Manhattan dermatologist, Dr. Bruce Katz.
The Smartxide CO2 laser is used to lightly resurface the upper eyelids, the skin under and above the eyes, and the crow's feet area. As discussed previously, one of the chief characteristics of the CO2 laser is to cause tissue shrinkage or tightening, hence a series of light treatments of the above-noted areas will progressively shrink loose baggy tissue while smoothing out wrinkles (crow's feet) and improve the appearance of dark circles under the eyes.
Depending on the severity of the problem: 3-5 treatments at 4- week intervals

Downtime consists of 1-2 days of swelling around the eye area

followed by another 2-3 days of redness and mild flakiness (which can be covered with make-up).
Patients who have their treatment done on Friday, are usually back to work by Monday.
Steel contact lenses (corneal shields) are inserted below the upper lid prior to treatment to ensure proper protection of the eye. The entire treatment takes approximately 10 minutes and is done under topical anaesthesia.
Prior consultation is required, as some patients may not be good candidates for this procedure. A surgical procedure called blepharoplasty might be more appropriate if they have excess skin or extreme ptosis (droopiness) of the upper lid, very low brows, or fat deposits under the eyes.
[elementor-template id="1606″]